Graters are an essential part of the kitchen, helping in shredding many different types of food items. They are also a superb tool for presentation. For example, when it comes to salads, it looks more attractive when the ingredients are grated. A dish looks more attractive when it is garnished with shredded cheese.
The extensive range of graters from Microplane can provide amazing results for different types of foods, making prepping that much easier and giving that uplift to your presentation. Here we are reviewing some of the blades available from Microplane with a quick explanation of how they can be used in your kitchens.
ZESTER Blade Grating Result:

Our famous Zester Blade Style creates a very fine grating result that looks like angel hair and is ideal for everything that you want to have finely grated.

Foods & Dishes:

Wonderful for effortless citrus zesting to add natural flavours to a fresh vinaigrette, a lemon crème brûlée or to homemade cookies. The blade also excels in grating even the hardest Parmesan Reggiano as well as other hard cheeses into fine lacy wisps, which are ideal for topping your favourite spaghetti and meatballs or Caesar salad.
Ribbon Blade Grating Result:
The Ribbon blade is designed to grate in both directions allowing a natural back and forth movement. The Ribbon Blade Style creates medium thin-bride 'strips'- a similar texture to the shaver just a bit finer and thinner.
Foods & Dishes:
It is ideal for everything that needs to have more texture like zucchini, hard cheese or cabbage. It is perfect for grating hard and soft cheeses for omelettes, soufflés, gratins and other savoury delights, as well as onions and potatoes for hash browns or to grate nuts onto muffin batter. The versatile blade can also tackle hard foods such as chocolate, as well as root vegetables like carrots and radishes for vitamin-packed salads and slaws.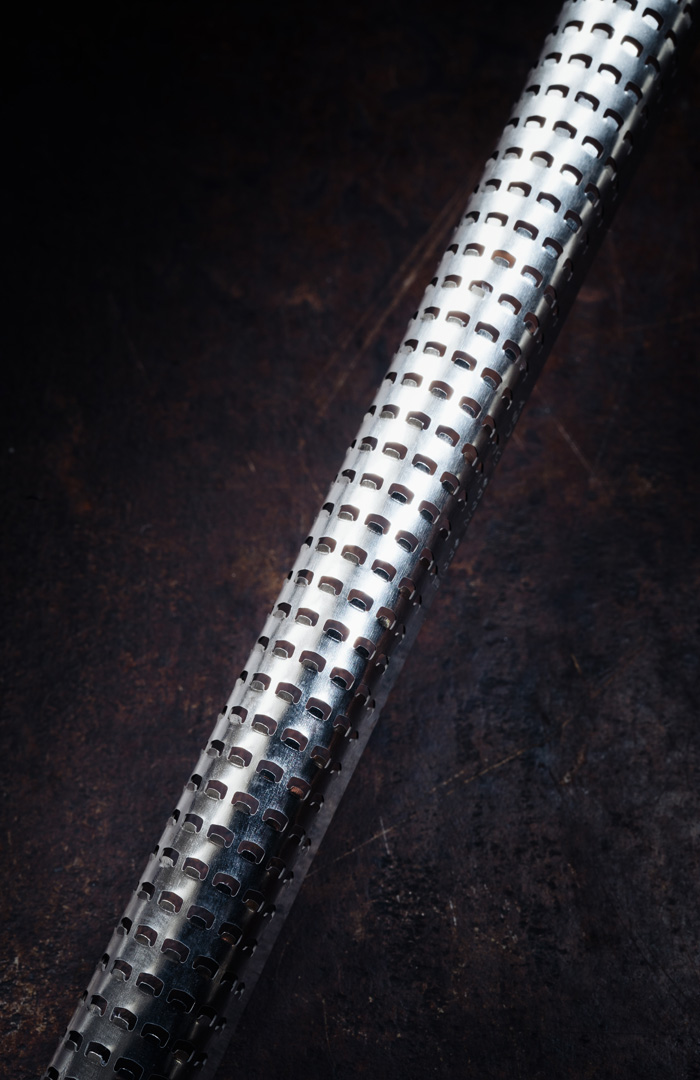 Spice Blade Grating Result:
The spice blade is our smallest blade style and it creates a super fine powder.
Foods & Dishes:
Ideally, to use for cinnamon, nutmeg, Tonka bean or chocolate to spice up and decorate your desserts or garnish your drinks like a hot chocolate. In addition, a very finely grated nutmeg is nice to give your mashed potatoes extra flavour or to garnish various sauces.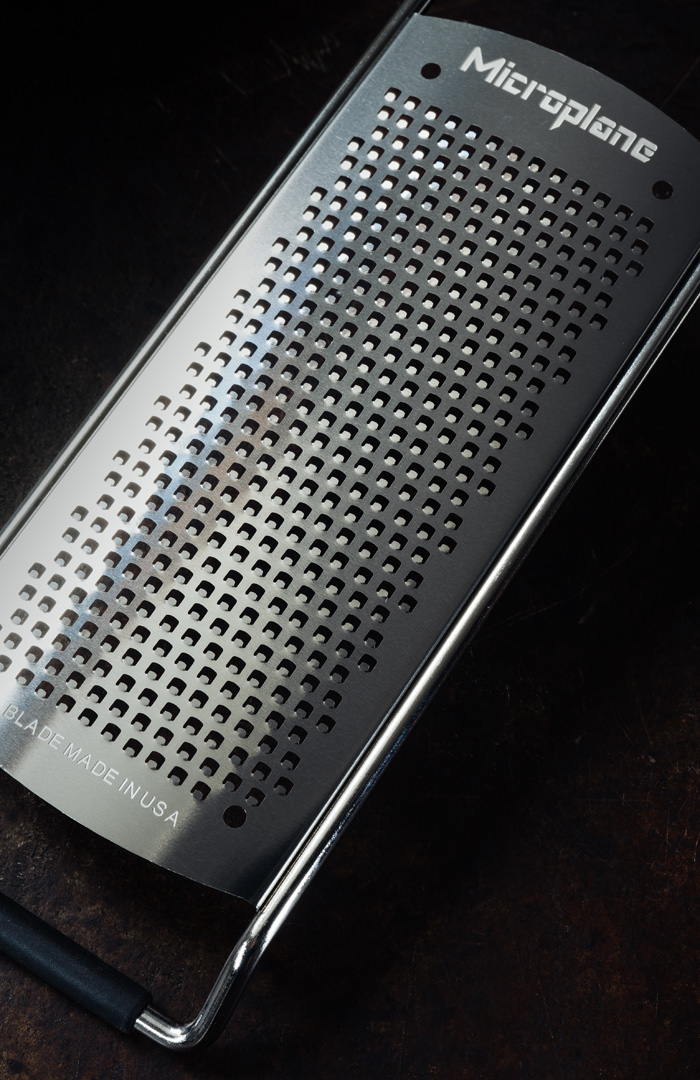 Fine Blade Grating Result:
The fine blade produces a very delicate, fine texture. A fine cut also produces a more intense flavour on a dish or directly on the taste's buds due to its super-fine and rich nature. The more moist foods like ginger, cloves or chili produce a puree-like texture.
Foods & Dishes:
The Fine Blade is ideal for grating all types of citrus peel without lifting off the fruit's bitter tasting pith. Grated citrus zest is perfect for 'adding' extra flavour to savoury dishes, dressings, but even more, for baking. It is also the perfect blade for grating a variety of hard spices – such as nutmeg, cinnamon, chocolate and Tonka beans. The spices become extra-fine granules that can add subtle or robust flavours to any recipe.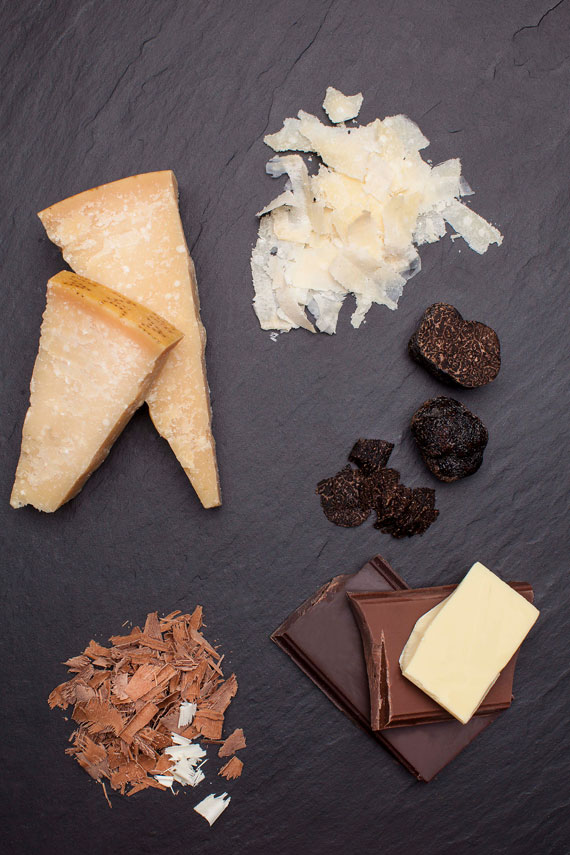 Large Shaver Blade Grating Result:
Create visually appealing dishes by adding beautiful shaved pieces of food. The Large Shaver blade creates wide but extremely fine shavings. The beautiful shavings not only make a visually stunning impression but also create an individual and intense texture of flavour.
Foods & Dishes:
Shavings of cheeses ideally used for garnishing various appetisers, like a beef carpaccio, a Caesar salad or a Panini sandwich. Perfect for slices of garlic for a lemon garlic chicken dish or any Italian dishes. For the sweet tooth, shavings of chocolate are ideal for baking recipes and garnishing desserts. This blade is perfect for shavings to decorate dishes and make the dish an eye-catcher!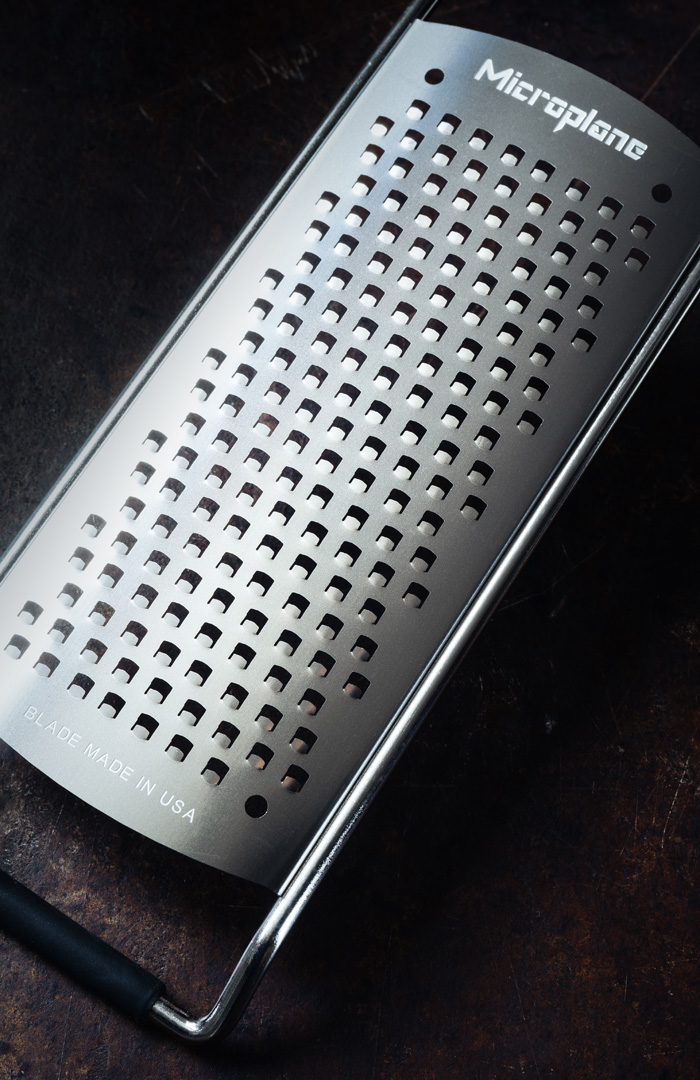 Coarse Blade Grating Result:
The coarse blade creates small strands of grated food that are slightly coarser than that of the fine blade.
Foods & Dishes:
It is ideal for hard cheeses such as Parmesan and Romano to top your favourite soup. As well as a wide range of fruits and vegetables, from pears, apples, and coconut, nuts, to fresh carrots. It is stellar at grating aromatics, such as shallots, onions, garlic and ginger into a fine paste that melts and blends instantly with other ingredients in a pan. Use coarsely grated ginger to spice up some stir-fries or prepare a freshly brewed ginger tea with lemon and honey. Finally, use coarsely grated carrots or apples ideally for baby purées.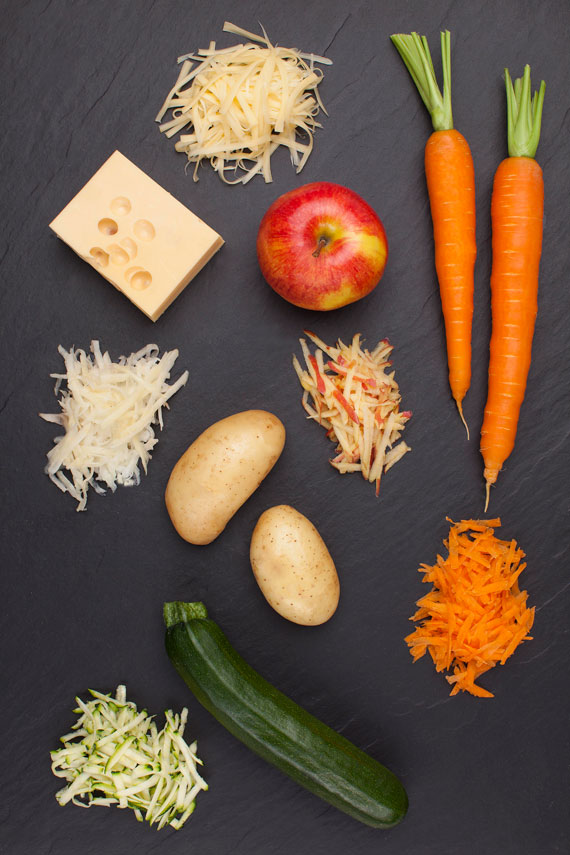 Extra Coarse Blade Grating Result:
The Extra Coarse blade creates large strands of grated food that are very similar to 'julienne-strips' but just a bit thicker and wider. When you want to highlight the taste of an individual ingredient, this would be the ideal blade style.
Foods & Dishes:
The Extra Coarse blade can tackle a host of ingredients, including soft cheese like mozzarella, as well as medium-hard cheeses, like cheddar, provolone and Swiss to use for salads, tacos, or pizza. It is perfect for making beautiful slaw from cabbage, and quickly grating root vegetables like potatoes, onions and carrots for salads, casseroles, meatloaf, au gratin, frittatas, and more. You can also use the extra Coarse blade style to grate cold butter for pastry, and easily grate fresh coconut as garnish for cakes or cupcakes.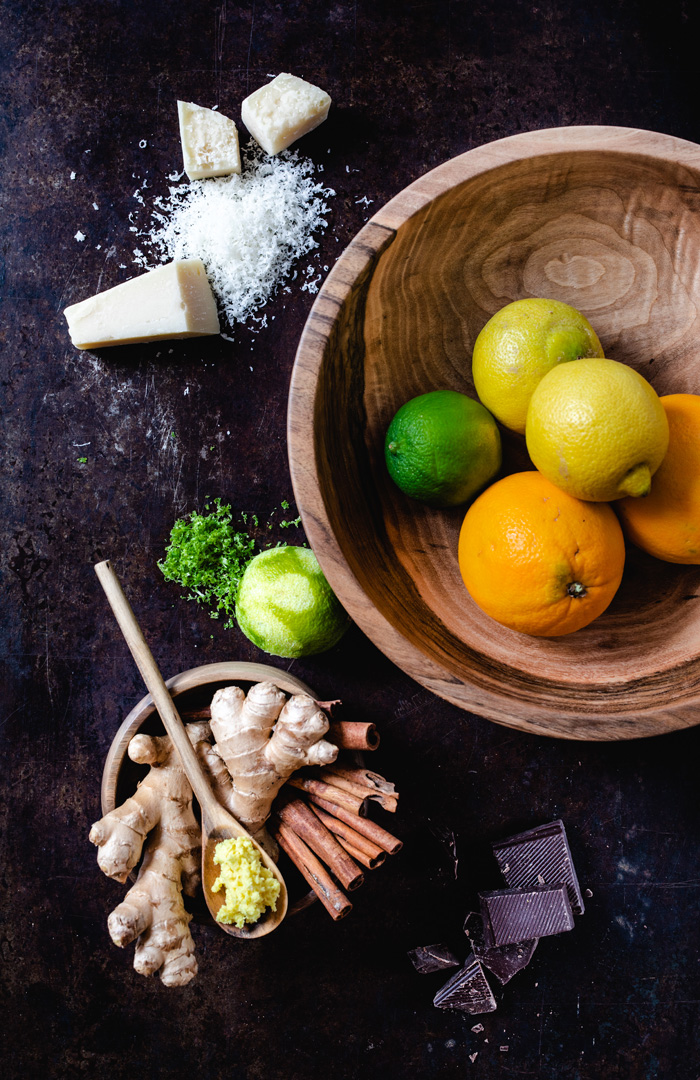 Star Blade Grating Result:
The ideal blade to create a super fine mist of a powdery, snowflake type, producing a very fine and fluffy result.
Foods & Dishes:
You can get a fine mist of powdery Parmesan cheese to cover your favourite pasta dish, a risotto or any appetisers, soups or salads or to melt instantly into numerous sauces. The blade is also great for grating your ginger very finely for Asian-inspired dishes or perfect for garnishing a dessert or a cappuccino with chocolate or cinnamon.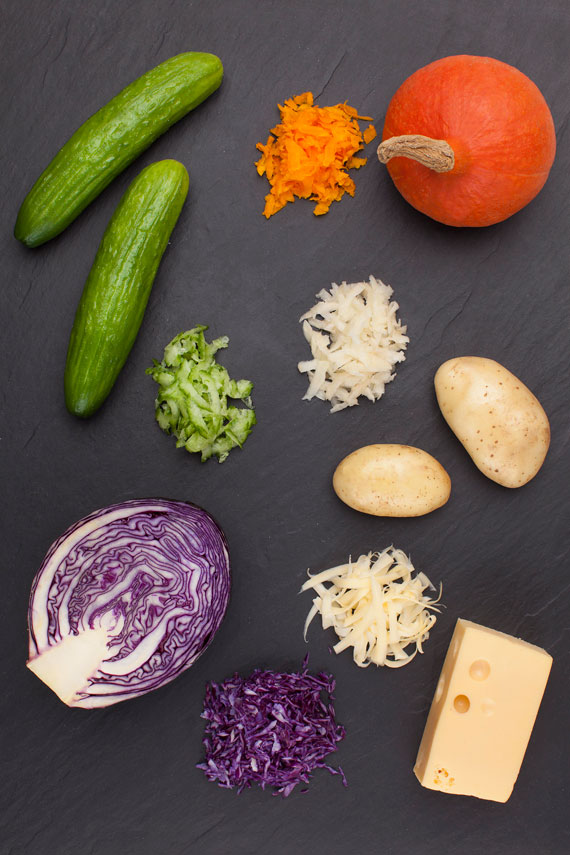 Ultra-Coarse Blade Grating Result:
This blade creates large strands of ingredients that are ideal when you want to highlight the taste of an individual ingredient or if you need bigger amounts of grated foods.
Foods & Dishes:
The Ultra Coarse Blade is perfectly designed to grate zucchini, potatoes, cabbage and other foods that require additional grating surface. Grate fresh pumpkin to make soup or strings of carrots for an aromatic beef stew. The Ultra Coarse blade is also great to use with soft-cheeses for potato or vegetable gratins or wraps.
Slicer Blade Grating Result:
The slicer blade precisely cuts cucumbers, radishes, zucchini, potatoes, onions, pepperoni, apples and other ingredients into superbly uniform thin slices.
Foods & Dishes:
The slicer blade is ideal if you want to cut food quickly but precisely into thin slices. Whether it's for salads, pizza toppings or garnishes, you always get uniform slices. Create healthy vegetable salads like a refreshing cucumber salad or top your salad with slices of radish to get a slightly spicy flavour note. Pizza toppings - no problem – slice and place slices of salami, mozzarella, or zucchini quickly onto the pizza dough. Slice potatoes and various vegetables for beautiful gratins. And create cocktail garnishes, healthy flavoured waters, dessert parfaits and more with slices of cucumber, oranges, lemons, or ginger.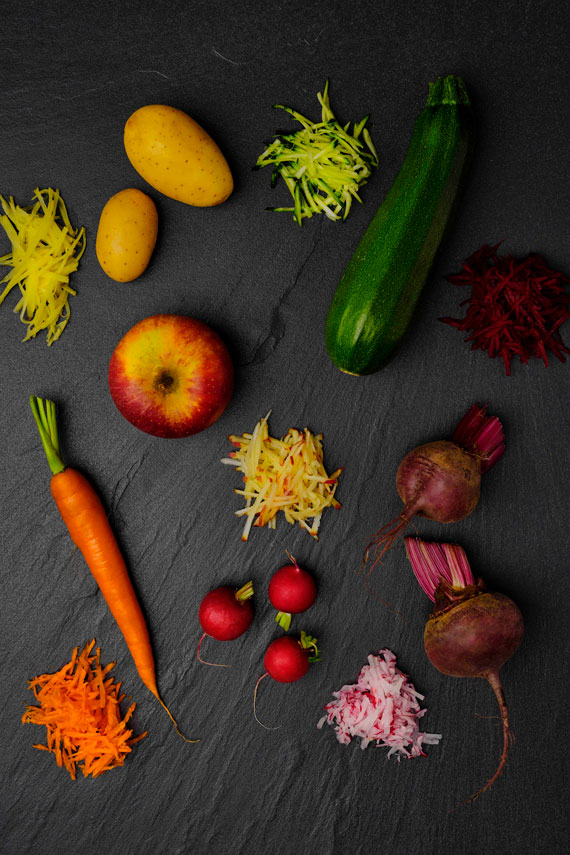 Julienne Slicer Blade Grating Result:
The Julienne Slicer Blade precisely cuts the food into long thin Julienne strips that look very similar to matchsticks.
Foods & Dishes:
The Julienne slicer blade is ideal for all types of vegetables and fruit. Use julienne strips of carrots, cabbage, and apples to create a fresh coleslaw that can be added to grilled dishes. Or just cut carrots into strips to garnish a healthy kale salad. Pan-fried dishes can be quickly prepared with julienne strips of sweet potatoes, zucchini, or carrots. Cut the beetroot and cucumber into nice thin julienne strips for a salad rich in vitamins. And fresh julienne apples can be added to a nice smoothie bowl. The fruit or vegetable julienne strips give a fresh taste to various dishes.
Fine Julienne Blade Grating Result:
The Fine Julienne Blade creates very fine Julienne strips of carrots, celery roots, zucchini, apples, pears, potatoes, beetroot, radishes, or cucumbers. They look slightly finer and thinner than the classic julienne strips. This blade is ideal for all sorts of vegetables and fruits.
Foods & Dishes:
The fine julienne blade is best to use for creating any sort of salads, to refine soups or to steam vegetables in a wok. Fine julienne fruit strips can also be used to decorate desserts. Thus, use the fine julienne strips for a fresh, delicious carrot salad or any kind of fresh salad. Grate potatoes and zucchini together for special hash browns. Grate fresh apples or pear to top your breakfast porridge, muesli or smoothie bowls.
Speak to us if you need advise on the ideal grater for your specific use – we definitely have the range to suit your every need.
Microplane is made in the USA and is exclusively available in Malta at the Catering Centre.
This email address is being protected from spambots. You need JavaScript enabled to view it. | +356 2157 7305
St Paul's Bay | Paola | Valletta | Victoria, Gozo