Real tools for specialists with high demands.
Thanks to the most modern developments in the area of butcher knives it is possible to offer knives which hold an edge that are safe, non-slip, and ergonomically designed. The engineers at VICTORINOX have packed all these excellent features into their new developments to set their knives apart from others.
When knife handles were not made from non-slip material it caused great problems. All users of the knives use to complain about this time and time again. It is exactly in this respect why VICTORINOX has succeeded in making a breakthrough.
After various test and trial periods at major butchery companies, the new FIBROX handle is now regarded as the best. Thanks to newly developed materials, it is now possible to ensure that the handles are safe to use and remain non-slip when wet or greasy.
Ergonomic Handle
The second but no less difficult task was the problem of ergonomics, the knife should lie correctly in the hand even after long hours of work. Tiredness of the fingers and wrist increase the risk of accidents. For this reason the user-friendly FIBROX handle was developed in line with the newest ergonomic findings. Evaluation of the trials carried out clearly indicate that Victorinox have also discovered the optimum solution in this area.
Naturally the VICTORINOX-FIBROX knives offer the highest quality cut. The first class steel quality and painstaking hardening allow resistance to wear and the desired elasticity.
By the way, VICTORINOX knives should only be sharpened with a top quality sharpening steel.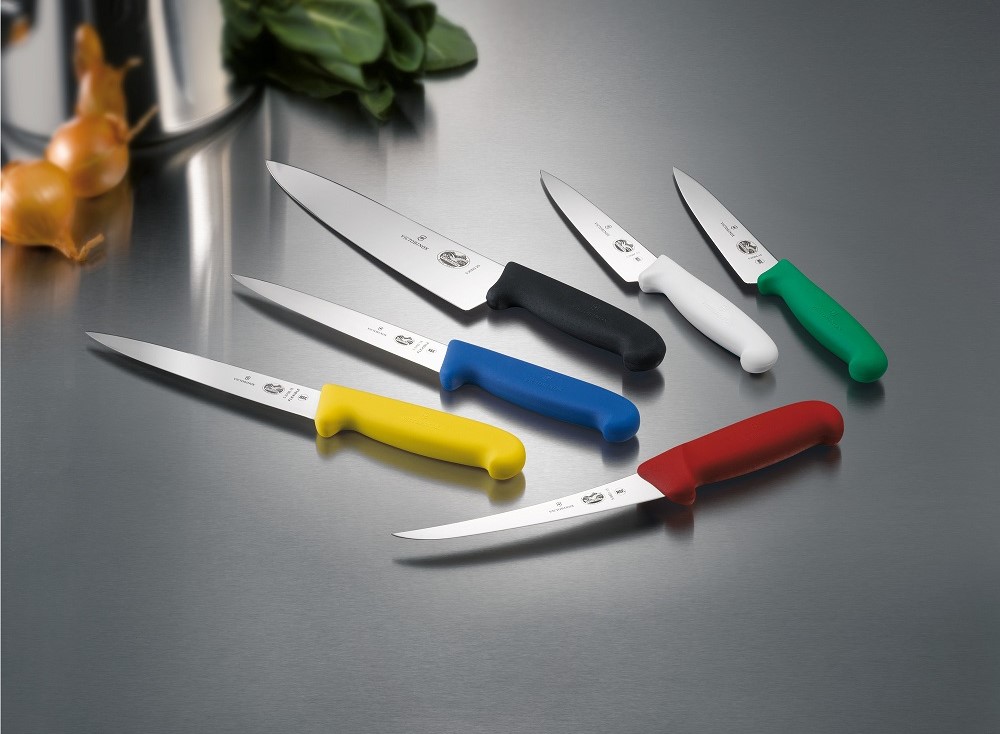 Sterilisation
A further important factor is sterilisation. Specialists who work in the butchery trade know that health authorities attach a great deal of importance to this point. All FIBROX knives can be sterilized at a temperature of 150°C; without any damaging effect to the quality of the new handle.
FIBROX - the trademark for the original VICTORINOX safety handle made from Polyamide, with the pleasant, non-slip surface.
FIBROX - when you have to depend on your knives.
Victorinox is exclusively available at the Catering Centre.
This email address is being protected from spambots. You need JavaScript enabled to view it. | +356 2157 7305
St Paul's Bay | Paola | Valletta | Victoria, Gozo