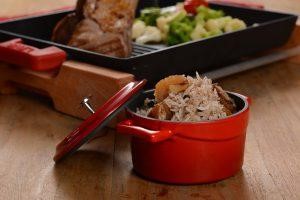 Why is it heavy?
Good cast iron cookware and pans should be quite heavy. Lava cast iron pots have a thick base. in order to be more heat absorbent and their structure are designed in such a way that the cookware will maintain uniform cooking temperatures throughout.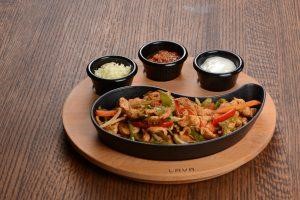 Barbecue flavoured Meat
While many grills can struggle with even cooking temperatures, cast iron's ability to absorb and distribute heat makes it the perfect solution. Place a heavy cast-iron skillet or griddle directly over the flame and let it heat up for ten minutes. The fire can be adjusted to high or low. The cookware will reach that temperature and hold it for long periods of time, enhancing the taste and giving a unique flavour to your food.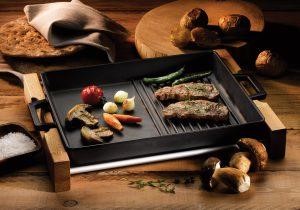 Non-stick, seals…
With a LAVA Cast Iron Grill, the meat never sticks to the pan. There are two reasons for this.
Firstly, the high temperatures on the surface of the pan will immediately sear and seal the surface of the meat. The flavour and all the nutrition remains trapped in the sealed food. So, even if the meat sticks momentarily when placed in the pan, as soon as the moisture on the surface evaporates, the meat will "unstick".
Secondly, thanks to the grilling channels on the surface of the pan, only a portion of the meat is in contact with the pan, thus it is easily separated from the pan and it will form pleasant scorch / grill marks on the flesh of the meat or even vegetables you may be cooking.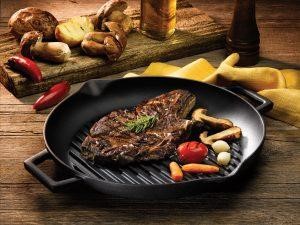 More healthy and tasty meals…
Cast iron is suitable for all kinds of cooking techniques. For example, you can cook soups, roasts, grills, stews, rice, casseroles and desserts, cakes, quiches, and baked recipes such as breads.
The cast iron material requires long baking over low heat to spread the temperature but will give excellent results with a superior taste and flavour.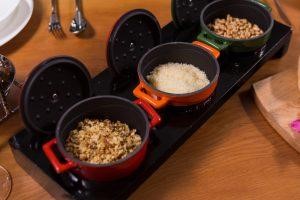 No loss of vitamins, minerals and aroma.
The special cover design of the pots ensures that the steam produced during the cooking process is re-circulated again into the food. When the cooking methods are used correctly, they not only produce great tastes and flavours, but also contribute to a healthy diet by ensuring the best protection of the nutrients in your food.
Practical and easy to clean.
Thanks to the high enamel coating technology LAVA cookware are dishwasher-safe, practical and easy to clean. It is durable and technically superior to many other similar products on the market.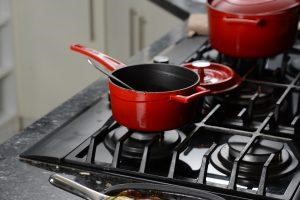 Environmentally friendly
Cast iron is an environmentally friendly material that is 100% recyclable. It also saves energy because it retains heat for a long period of time.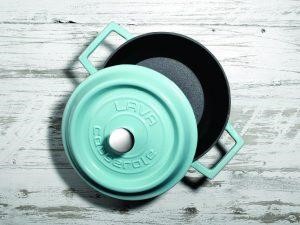 The Catering Centre is the agent for LAVA in Malta.
Want to know more? Call us on +356 2157 7305, send an email on This email address is being protected from spambots. You need JavaScript enabled to view it. or message us on Facebook! We'd love to hear from you.